Emails are a fast, almost instantaneous way to communicate in writing. It's easy to include large swaths of people or to write direct missives tailored to an individual. Whether used for personal work or for business reasons, emails is the top tool used today to communicate.
A Brief History
Did you know that the 'e' in email actual stands for electronic mail? The format enables messaging, text and files to move between computers using the internet as a communicative backbone.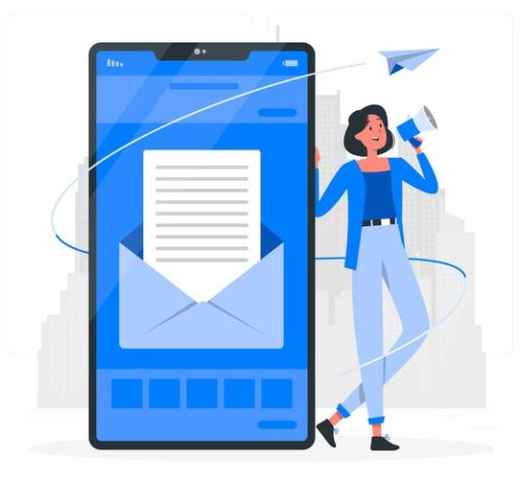 There are two main types of email in use: client-based and webmail.
Client-based email requires a program like Microsoft Outlook or Mozilla's Thunderbird to operate on a users' computer. In this scenario, email is accessed through a web browser that connects to the internet and the program being run downloads messages from a server to the application.
Arguably the increasingly popular email form, webmail is a web-based approach where one needs access to a computer that has internet access. In this category, most users log in to individual accounts gated with a unique username and password and access a personal mailbox where messages can be sent or received. The major players in this arena include Googlemail (Gmail), Yahoo and Hotmail.
Features of Email
With the ability to be sent 24/7 everyday of the year, email is both cheap and effective. As a replacement for snail mail, email serves up a bevvy of features that facilitate quick communication and can yield a workflow system much to the advantage of businesses everywhere.
Examples of inherent features include the ability to automatically reply, auto-forward, reply all, file into electronic folders to create an archive, timestamps and dates for transactional histories, signature contact data and the ability to transmit files, graphics, videos, documents, sounds and so on of all sizes.
However, there are several disadvantages to email as a form of communication. For instance, it does increase an individual or businesses' exposure to online threats that can include identity theft, computer viruses, phishing scams and unsolicited junk mail (otherwise called spam).
Today, webmail is available through most mobile devices or tablets enabling people to perform their business regardless of location or time.
The Many Benefits of Email
As a modern form of communication, email boasts many benefits that apply to both individual users and to business entities alike. It expedites the exchange of information, keeps the cost of communication low, supports global capabilities, and offers flexibility to message from anywhere in the world. The main benefits of this virtual communication system include:
Fast Correspondence
Email alleviates delays that were considered normal for regular mail and post office systems. With just a few clicks of buttons, sensitive information can be sent anywhere to anyone. It's the tool that allows conversations to evolve, mature, grow and progress, serving as an infrastructure for life.
Accessibility
By eliminating time and distance barriers, individuals can send and receive information whenever needed in both personal and work-related matters. All that is required is access to the internet and a computer, mobile phone or other connected device. This capability has greatly contributed to the growth of business on an international scale.
Affordable
Keeping lines of communication open use to require resources but email has revolutionized communications by reducing significant costs. There are numerous free email services available today that lower the cost of communication to almost zero, especially if considered how much businesses used to spend to mail correspondence regularly.
Collaborative
One paper copy of a handwritten or typed note sent to one other individual does nothing to further group collaboration. Email encourages the opposite. With the ability to loop new individuals into existing conversations, email can serve as a way to work together using stored records as reference points to move work items, projects, and conversations forward.
Email Management Strategies
Since it is easy to document correspondence, email is an effective inter and intra-office communication tool that individuals and businesses can leverage. Unfortunately, emails' ease can make it simple to send superfluous emails that add a layer of drag on productivity and encourage the misuse of time.
There are several strategies that can be implemented to ensure that time and energy are not wasted on email endeavors. That's where best practices for email management come in.
What is Email Management?
Email management is an overarching strategy implemented to hone task management skills, boost team dynamics, and aid in deciphering what type of communication requirements exist in projects.
There are numerous methodologies that exist as frameworks to manage time spent on email. Two popular philosophies involve distinctly different mentalities. They are as follows:
Get It Done
This simple rule states that if you can tackle an email in under two minutes, then do so and don't leave it in your ever growing inbox.
Specific Windows
This philosophy encourages individuals to schedule daily windows of time to tend to their emails. This systematic approach helps alleviate the sporadic workflow that occurs whenever an individual is on-task and then interrupted by a new ask via email. Within this idea, there are several ways to swiftly tackle emails:
Delete
If you receive an email that's not relevant to your work or pursuit, simply delete it.
Deal
Like the 'Get It Done' rule above, if an email can be handled swiftly, then do so.
Defer
If you recognize that an email requires your attention but that it will need more than two minutes, create a special folder where you can house it until you have time available to execute.
Delegate
If you receive an email that's not your job or is an FYI, then empower the person that can address the issue to take action.
Done
Either delete or move finished email to folders to keep your inbox clean and organized. That way, whenever you look at your inbox, it won't be overwhelming.
Other Best Practices
Other tips that can help reduce email bulk and get you to focus on what is important instead of the infinity pool that email can become include:
Mark Unread
Anything requiring action should be kept as marked unread. This will keep you informed on how many items you need to check in on. For other emails, immediately delete to keep a clear path.
Turn Off Notifications
If you have notifications for email (or anything else for that matter) turned on, this is a surefire way to interrupt your workflow and keep your brain scattered in its attempts to multi-task. Instead, turn off notifications and avoid the distraction.
1x an Hour
If you struggle with discipline, we recommend setting a rule for yourself that allows you to check your email once an hour as a way to minimize distraction and to stop the flitting from inbox back to workload.
Acknowledgement Goes a Long Way
If you receive an important email, send a quick notice of receipt to let other parties know that you have logged the task and it's currently in your queue.
Delete Extra
Getting comfortable with the delete button is helpful in combating inbox overload. All of these rules apply to your personal inbox or that of your business.
On to Draft Mode
Now that we've got the basics of the origin of email and etiquette for managing inbox workflow as an individual, we'd like to move on to thoughts on how to draft better emails. After all, writing unclear, long and complicated emails can make all of the above just that much harder.
Shorter emails are critical to saving on time for both a sender and receiver. To write better emails, we recommend a few tips:
Brief Subject Lines
Keep your topics clear, concise and to the point. Subject lines should be fully displayable on small screens and mobile devices. If possible, stick to under 40 characters.
Front Load Info
To ensure that your audience receives the point of your message, you should frontload the bottom line. Instead of delving into background information, get straight to the point to allow the reader to extract essential tasks or action items early on.
Leave Out Supporting Info
With a brief subject line and front loaded info, you can feel free to save supporting evidence and nuances for actual meetings or calls when it is easier to get through a bulk of thoughts.
Remove Formalities
It is not necessary to thank someone or add a formality to every single email. In the first few exchanges, please do feel free to include but as a chain lengthens, it's fine to allow an email to end once your information is conveyed.
Keep Threads
Since email writing is officially exchanged with others, it's a good idea to keep your messages stacked with the reply functionality. This is a good rule of thumb to follow for organization and in case any new individuals are copied into a chain, they are free to go back and read the history of an email thread to get them fully up to speed on the matter being discussed.
Side Note: Make a Call or Set a Meeting
If you are in a situation that could otherwise be solved faster and more efficiently by picking up a phone for a brief call or by calling a meeting, you should do that. Email inherently has a plethora of back and forths due to it being a written correspondence. Often work or personal items require the finesse of conversation to figure out; and that's okay.
Reducing email flow is a group effort and is a continuous practice of recognizing the most efficient way to do business. Sometimes it's best to communicate face-to-face, via the phone or through video chat.
Leveraging Email as a Marketing Asset
At Email Management Pros, we know the ins and outs of leveraging email as a tool that can best serve a businesses' marketing profile. While much of the above details history and etiquette of email and best practices when it comes to using email as an effective tool for communication, we are now going to move onto the various components of email marketing – a niche application of email that can raise brand awareness and help drive loyalty and sales.
In today's business environment, email marketing is a collaborative effort. A digital marketing strategy can refine a company's messaging for targeted prospects and current customers to encourage business and brand loyalty. It's one of the best ways available to nurture leads and boost customer engagement.
With a high conversion rate, marketing through email is backed by research that shows the ROI converts even more so than increasingly popular social media channels. In fact, it converts approximately 3x higher than social postings. So as one of the best ways to make sales online, here's what you need to know:
You Need a List
To get started with email marketing, you'll need to create or purchase a list of email addresses for your target audience. If you use a system to store contacts, this is a good place to start. Be sure to curate your list by those that you think will truly be interested in what you are offering.
Compelling Offer
To entice people to connect and engage with your email (and thus your business), you will need to make a compelling offer. This is also called a lead magnet. It can be a piece of educational content like a white paper, ebook or case study, an audio file like a pre-recording discussion on a topic of interest, a webinar or video presentation, , a coupon code, a list of industry tips etc. The point is that you want to offer something that has value for your target audience.Good lead magnets should be easily consumable. You want to make the process seamless for your leads. It should also provide actionable or useful information relevant to your company's offering. And last but not least, it needs to be instantly available. Try not to play any waiting games! A waiting game can diminish interest and even do further damage to your brand by turning people off of your trail.
Info Capture Form
Here's the part where you can grow your leads. By dangling something enticing, you'll hopefully pique the interest of your audience to input their data in exchange for the lead magnet. For example, a coupon code or newsletter subscription in exchange for an email address is one that we've all had experience with as we go about our online lives.Good opt-in forms should have a clearly stated headline and be accompanied by a helpful description of what the reader will receive. If attractive visuals are possible, great optics are an excellent way to generate interest. Keep the entire form simply and if possible, ask for no more than a first name and email address.
Segmentation
For those with great return on their efforts, you may need to move to email segmentation which is a process that breaks up interested contacts into smaller subgroups. This can support efforts to send more personalized and relevant emails to yield higher open rates.
Getting Good Email Open Rates
If your data shows that you aren't getting good email open rates, there are several reasons this may be the case:
Email Outdated
Perhaps the email address you have on file for a contact is either out of date or for an inbox that they don't use very often.
Vague Subject Lines
If your business sends emails with unclear subject lines, the chances are that your potential readers will not enthusiastically open to see any offer.
Not Interested
It's true that readers often have a lot going on and aren't interested in what you have to say.
Too Much or Not Enough
These two reasons are the flip sides of the same coin. Often targets are either tired from hearing from you or you send material at such intermittent intervals that they can't recall your brand.
No Opt In
Many individuals don't open emails they don't remember signing up for. If you've purchased a contact list, you should expect several to delete your emails since they never originally opted in for your messaging.
Repeat Offender
Re-using subject lines for emails is a surefire way to make your targets weary. You want to use fresh, snappy language that teases and entices.
Your Domain isn't Authenticated
If you haven't authenticated your domain, then being able to get firm numbers on your open rates is impossible. Before your next email campaign, be sure to take care of this task.
High Expectation
If your expectations for open rates is too high, then this may also contribute to skewing your numbers when it comes to getting people to open your emails.
If you are struggling to improve your email management capabilities when it comes to leveraging this modern tool as a marketing asset, give our team a call today. As experts in the industry, we can evaluate your current approach and help you level up your game to achieve increased success.