Digital marketing has seen a huge rise in recent years and email marketing has been at the top of all digital marketing channels.
Businesses, small and large, are all looking for wider audiences and greater reach and better conversions.
Good email marketing campaigns can help boost sales, image and loyalty among many things and this is what keeps attracting most brands and marketers toward it. Let's look at what email marketing is, why it is important and what are some of the best email marketing platforms of 2021 to find one that suits you.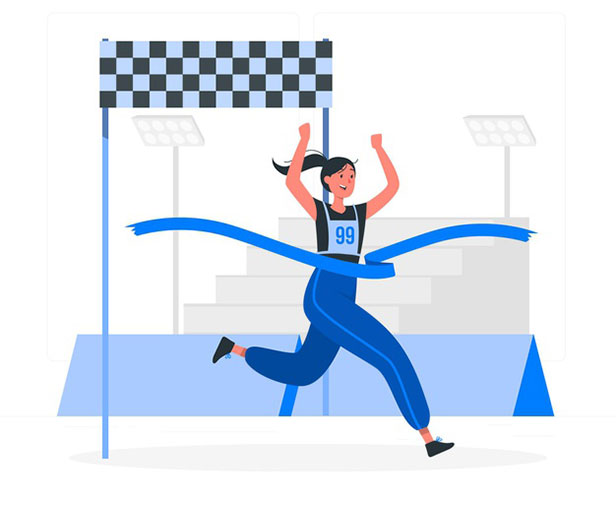 What Is Email Marketing?
Email Marketing is the digital marketing practice of sending emails that engage and communicate with prospects and customers of businesses. These emails may promote the business, sell products or services or simply provide valuable information to readers.
Many think that email marketing is a thing of the past and there are newer channels that provide better, more engaging and profitable digital marketing opportunities. This could not be farther from the truth. Email marketing strategies are indeed old and may seem basic from a user's perspective but they have held the highest ROI for any digital marketing strategy for decades.
In the year 2019, around 3.9 billion people used email globally and this number is expected to hit 4.4 billion by the year 2024 according to some studies.
The Importance of Email Marketing
Email Marketing is an excellent way to convert prospects, engage customers and build brand image and loyalty. If your digital marketing strategy does not incorporate email marketing campaigns, you may want to rethink and reshape your strategy to do so.
It is essential for any B2B or B2C business to use a strong email marketing strategy for their digital marketing. Because when it comes to digital marketing, email is the undisputed champion for conversions and building good customer relationships.
There are many reasons email marketing is important for any business, large or small.
Brand Loyalty and Image
A good email marketing strategy can help your brand build trust and loyalty among your prospects and customers. This, in turn, improves your overall brand image and market perceptions of your business. It is not hard to see how brand loyalty and image can boost conversions and sales.
Inexpensive and Cost Effective
Research shows that the ROI of email marketing was $40 for every dollar invested in 2018. This and the low barrier to entry make it an excellent choice for smaller businesses that cannot afford other, relatively expensive marketing strategies.
Although small businesses can benefit greatly, larger businesses equally reap the strong returns from email marketing and continue to incorporate it in their marketing strategies.
Effective Results
Ranked as the most effective digital marketing strategy in 2018 by many studies, email marketing has led the digital marketing ROI of any strategy for decades. What is even more interesting is that after all this time, it is still improving and growing larger every year.
Longevity
The inherent nature of email addresses as a primary mailing hub is such that users tend to maintain them for decades. Whereas they may change addresses and handles more often and easily on other channels like social media platforms or contact numbers.
This means investing in and developing an email list can last your brand or business for a long time without having to update for changes in user addresses.
Insights and Measurability
User engagements and responses on emails provide immediate results that give you relevant data on prospects and customers. This allows you to measure your email marketing campaign with greater accuracy and adapt immediately according to requirements.
Email marketing platforms or software services often give detailed analyses of the campaign using tools that help measure and identify your campaign's strong and weak points.
What Is an Email Marketing Platform?
Developing a rich mail list and sending out thousands of emails can take a lot of time and quickly become inefficient if not managed and controlled properly. This is where you require software and automation to help you better utilize email marketing strategies.
An email marketing platform or software service does exactly this. They provide you the necessary software, automation, tools and management skills you need to conduct a successful email marketing campaign for your brand or business.
Most email marketing platforms have features that provide automation, segmentation, reporting and management tools and they all have different features to choose from for your email marketing strategy.
Some provide all-in-one solutions while others provide simple and easy-to-use automation for your campaigns. There are two main types of email marketing software, they are:
Packaged Software
These are installed directly in to your computer for automation of email marketing. Usually these will cover all bases but are limited to a single device for operations and control. They have two main advantages over cloud based software:
Mail list is stored locally on your internal computers.

Less expensive than cloud-based software.
Cloud-Based Software
These are accessible from any computer that has a working internet connection because they are a cloud based software. They have many other advantages over packaged software including:
Automatic software updates.

Email servers are certified and focused for mass distribution, increasing delivery rates.

Single provider will maintain all web spaces for editors and email servers.

No IT maintenance costs of problems.
The Best Email Marketing Platforms of 2021
We have researched and compiled a list of the best email marketing platforms for you so you do not have to. We will cover them in detail and discuss the pros and cons of each as we go.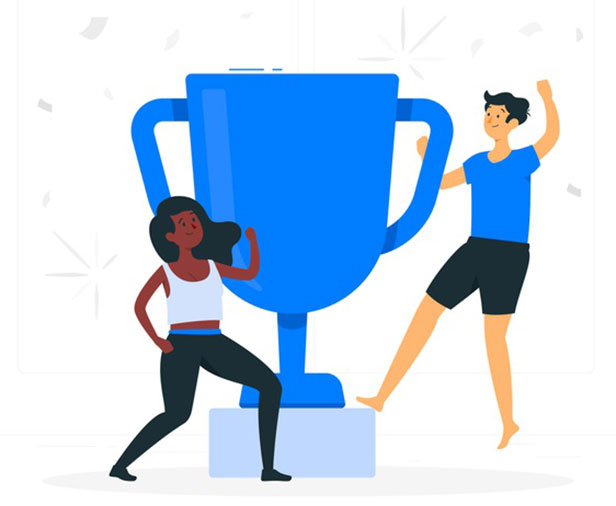 Here are our leaders of the best email marketing platforms of 2021
ActiveCampaign
ActiveCampaign is an American platform that claims to be an all-in-one marketing platform with the goal of sending fewer emails with greater results. They are highly focused on automation and as such, they provide unparalleled automation in the field.
Based on visitors' behavior you can automate almost everything on your website using if/when/then logic. They also offer a personal consultation call and a spam analyzing tool which is unique from other platforms.
They have an added aspect of machine learning for sending emails among other modern email marketing features. All their plans have no limit to the number of emails, and the pricing works on the number of contacts instead.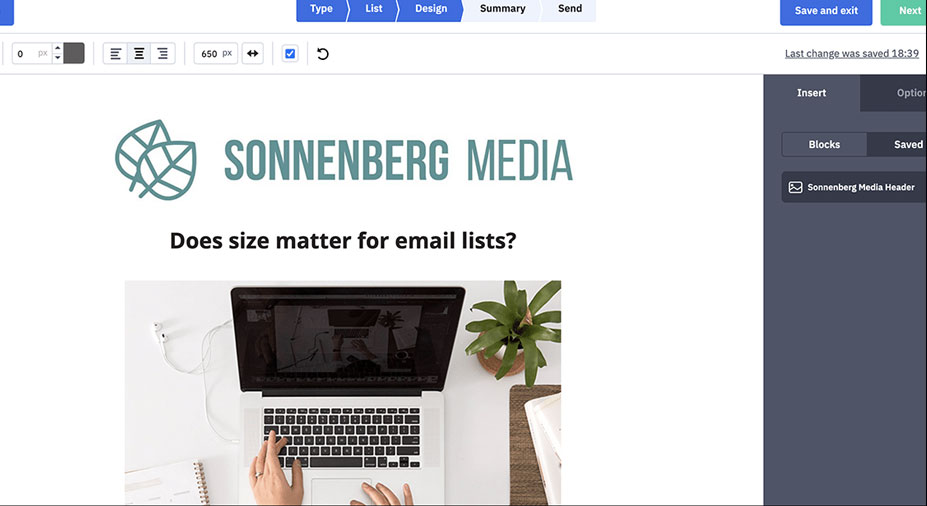 As the number of contacts increases, the pricing rises and features start to become limited. This means that the more contacts you have, the lower tier your plan becomes. This is an odd way of pricing compared to all other platforms.
If you pay yearly instead of monthly, it will reduce the cost of plans across the board. There are no money-back guarantees and plans start at $9 per month for 500 contacts. There is, however, a 14 day free trial that has limited features.
Adding contacts to the software is easy and straightforward with an added feature of automatic transfer of email list from any other service. You have to tag each contact to better organize them. There are multiple options for the type of campaign you want to start including:
Automation
Standard
Date-Based
RSS Triggered
Split Testing
This is where the previous tagging of contacts is important because you can only add lists of contacts to your campaigns and not individual or all contacts.
The editor tool has 21 templates and a few layout options to choose from when creating emails or you can also put in a custom HTML code. The design tool adopts a drag & drop function with some added design options for every component. The image editor within the email editor is easy-to-use and can save you some time on image editing.
The summary page at the end has nice tracking features for different elements, scheduling of email launch and a unique spam checker that shows how much your email is considered spam. This is a unique feature not found with most other platforms.
They have a mobile app but it does not offer the editor, it is more for informational purposes. It will show you reports, track customer activity and give access to your Customer Relationship Management (CRM).You can however access the editor through a mobile web browser.
Customer support is only available during business hours through chat and email but call support is limited to subscribers of higher tier plans.
Pros:
Good automation options
Good delivery rates
Mobile use through browser
Spam checker
Cons:
No free plan or trial
No money-back guarantee
Complex for beginners
RESULT: Good for small to medium sized businesses. If you are an email marketing veteran looking for an advanced automation platform with full features and industry leading delivery rates, then ActiveCampaign is a good option for you.
MailChimp
MailChimp is by far the most popular email marketing platform to date. They have a market share of almost 70% which is extreme market domination to say the least. Owning almost 70% of any market is borderline monopoly.
For comparison, its biggest competitor Constant Contact rakes in a little over 6% and the other 250 plus platforms rake in around 18%. This makes MailChimp King Kong rather than a chimp in the jungle of email marketing platforms.
The reason for this could be the fact that they offer a free plan with up to 10,000 emails per month to 2,000 contacts. There is the catch of a small ad on the footer of each email, but that seems like a low price to pay for what is essentially a steal.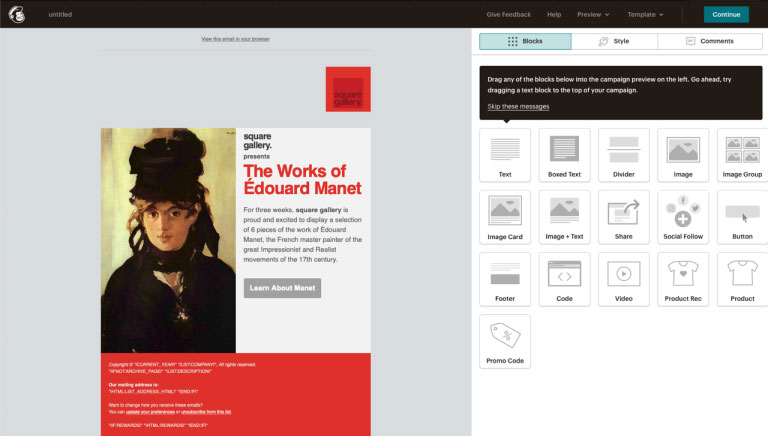 The pricing is based on the number of contacts and plans start at $9.99 per month for 500 contacts. They offer a pay-as-you-go option from the 'Essential' plan that is very flexible for users, you can prepay for MailChimp credit which can be used to send out your emails.
For advanced features like automation and better customer support, you will have to upgrade your free plan. The best features of MailChimp include automation, segmentation, sign-up forms, dynamic content, customizable templates, built-in image editor and the drag & drop design tool.
Apart from this, they offer more than 200 integration options with social media platforms and other applications which make for good social media features. The software itself is very user-friendly and has a guide that walks you through the process which is great for beginners.
After setting up an account, you can import or copy paste contacts, then add tags, information and statuses of contacts. You can change these later if needed. You then set up your campaign and can create emails by selecting templates and layouts or with custom HTML code or simple text.
The templates and layouts feature a drag & drop tool and the built-in image editor saves you time on email developments. You can view the email in mobile, desktop or inbox view and double check everything in the summary page before sending.
They offer a fully functioning mobile app where you can create emails and landing pages, add contacts and view performance data. The free and paid plans all offer a 30 day email support option, while 24/7 live chat and email is only reserved for paid plans.
The highest tier plan will also provide call support to subscribers. There are no trials for paid plans or money-back guarantees available.
Pros:
Free plan
Mobile app
Easy-to-use
Good social media integration
Good for startups
Cons:
No free trial for paid plans
No money-back guarantee
Limited customer support for low tier plans
RESULT: If you want a smooth email marketing experience with good social media integrations and a fully functional mobile app then this is a good platform for you.If you own a startup or small business, then the extremely generous free plan is a no-brainer for you.
FireDrum
Founded in 1999, FireDrum is an affordable yet powerful option, based in America, for businesses of any size. They offer intuitive campaign automation tools, user-friendly features and some of the best customer support available in the market.
They even offer fully managed services that run your email marketing campaigns for you. This can be valuable to many businesses that target B2B or B2C, require management for multiple locations or to agencies that require a tool for managing their clients' email marketing campaigns.
They offer all modern features required to run successful email marketing campaigns with the exception of customer surveys.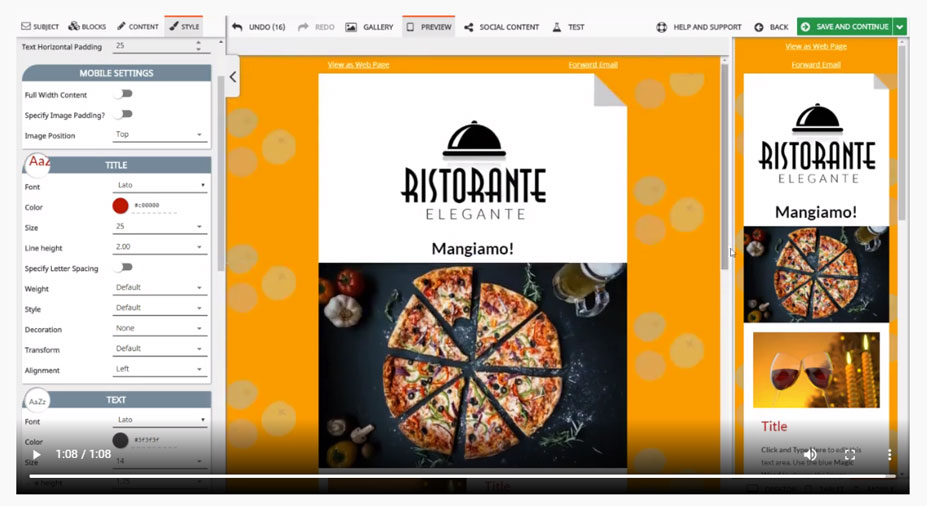 They have a free plan that is good for getting the feel of the platform. It offers 500 emails per month to 100 contacts, their 'Email Studio' with a template library, spam checker tools and live mobile and tablet previews.
The paid plans start with 'Business' at $4 per month with unlimited emails to 500 contacts. The important features include drag & drop function, Pixabay integration, template library, automation, dynamic segmentation, analytics and unlimited email, chat and call support.
The software is easy-to-use and you have multiple import options for contacts to start creating segmented lists based on information such as location and age. You can then create emails using the drag & drop function and template library.
The advanced features include private label tracking, spam prevention and abuse tracking, custom domain URLs and automation including:
A/B testing
Triggered emails
RSS to email
Drip campaigns
Unlimited image storage
Recurring emails
Push campaigns
The reports are detailed and visual that include interactive graphs, engagement reports, global account, campaign and contact reports. The 'Open Boost' feature automatically resends messages to recipients who have not opened them, increasing open rates.
You can even auto post to social media platforms like Twitter, Facebook and LinkedIn. Their support is unmatched in the industry, from live chats, emails and calls to consulting, live training and one-on-one on boarding.
The editor and features are all available for use through web browsers and the free plan has many other features available as well but there are no money-back guarantees for the paid plans.
Pros:
Free plan
Easy-to-use
Price
Good automation options
Good social media integration
Good customer support
Cons:
No customer survey feature
No CRM
RESULT: This plan comes with great value for money and free plan features. If you want to get the most out of your email marketing campaigns, the best customer support and open option for managed services for any size of business, then this is the platform for you.
Sendinblue
Sendinblue is a Paris based platform that was launched in 2012 for transactional emails but now provides email marketing services and their own newsletter platform. They service over 14 countries with around 30 million emails and messages daily.
This is a decent platform if you are looking for a budget friendly and an easy solution for your email marketing needs. They have decent features that are fairly easy to use. You can copy paste, import or add contacts individually and use their design tool for emails.
They provide a starter plan for free with 300 emails per day and charge $25 per month and more for additional features and premium plans.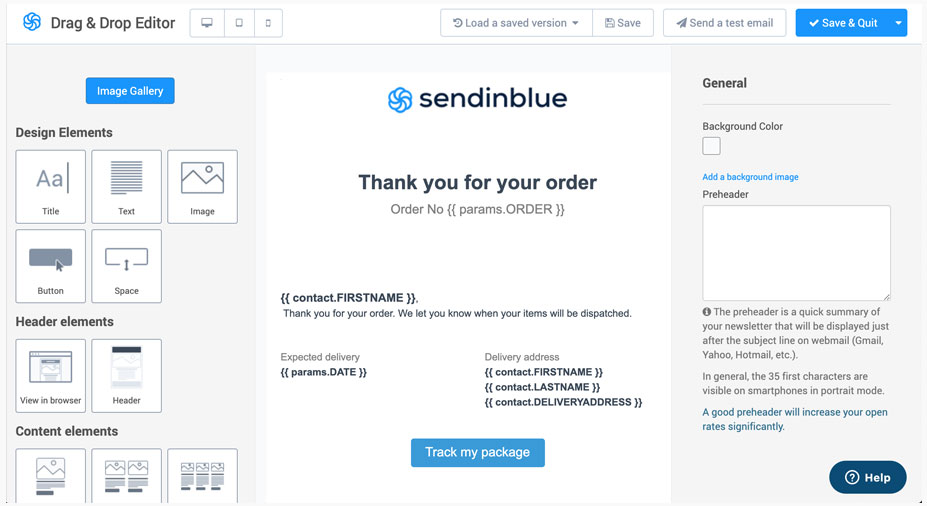 The free plan is enough to get you started with the latest trends of email marketing but you will have to upgrade your plan if you want more advanced features and more emails.
All plans, including the free plan, have an unlimited number of contacts. The segmentation options, custom email automation, email personalization, mobile access and user-friendliness of the software are all useful features.
The design tool and email editor is user-friendly, compact and can be viewed from a computer, tablet or mobile device. The drag & drop, custom HTML code and 'Rich Text Editor' are all very easy-to-use for creating emails.
You can double check everything before sending out emails because the software displays design, setup and contacts in a summary before confirming the emails. The software does not have a mobile app but is functional and smooth on mobile web browsers.
The least expensive paid plan of $25 provides 10,000 emails but there are no money-back guarantees. You can, however, try the free plan first to get a better understanding of the software before purchasing paid plans.
You can always suspend, hold or opt out of paid plans anytime through the settings if you need to and customer service is available over email but live chat and phone support is offered only for 'Premium' plan users or higher.
Pros:
Free plan
Pricing
Mobile use through browser
Good for small businesses
Cons:
No money-back guarantee
Limited customer support for low tier plans
Email editor has room for improvements
RESULT: If you own a small business and want a user-friendly, good overall email marketing experience that is not too complicated or expensive, then Sendinblue is an excellent value-for-money option for you.
Constant Contact
Constant Contact have been in the email marketing industry since 1995 and offer good delivery rates. They have the second largest market share for email marketing at around 6% and currently offer their services to over 650,000 users worldwide.
Constant Contact has an abundance of over 270 apps for integrating added services to the platform. This allows for a lot of extra services if you are looking for further options with a platform.
They provide all the necessary features required to run modern email marketing campaigns, with the more advanced features limited to higher tier plans. The notable features include mobile-responsive emails, automation, personalization, segmentation and drag & drop design tools.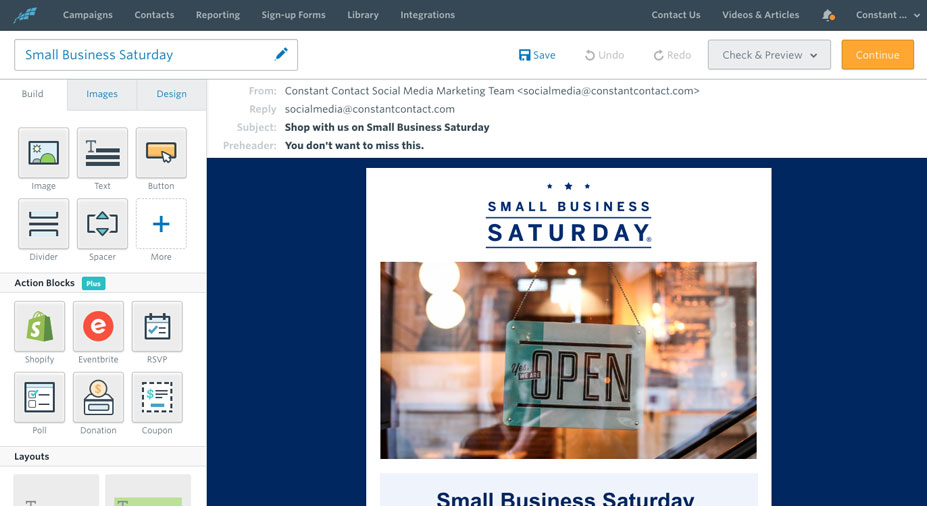 The pricing is based on the number of contacts and the least expensive plan starts at $20 per month with 500 contacts. They do not offer a free plan, however, they do provide an unusually long 60 day free trial period with 100 contacts and a 30 day money-back guarantee with their paid plans.
You can copy paste, upload in bulk or import contacts from third party apps as well through an easy and simple process. The email design offers element block with the drag & drop feature for creating emails. There are many templates available or you can create your own emails if you prefer.
The software offers you the option for inbox view at any time during the email creation process. Once complete, you can add contacts and set a schedule for the email to go out. After sending out emails, you can check the dashboard for simple stats regarding the performance of your email.
The platform offers a compact and useful mobile app that features statistics, notifications and email creation and sending options. The app is helpful for remote access, creation and management of your campaign.
They offer support through live chat and phone calls and the platform's plans also include web hosting. You can create landing pages, ecommerce sites and even an entire website using their website builder tool.
Pros:
Free trial
Good delivery rates
Mobile app
Money-back guarantee
Cons:
Price
Basic automation
Lack of basic functions
RESULT: Although slightly expensive, if you want good delivery rates for your business and a smooth mobile app to conduct your email marketing campaigns on the go then this is the platform for you.
ConvertKit
ConverKit is a fairly new email service platform that is focused toward catering creators like YouTubers, bloggers and vloggers. They do this by focusing on growth for clients through a featured course that helps build and launch campaigns.
The paid plans are based on the number of contacts with the least expensive plan starting at $25 per month for 1000 contacts. They offer a free plan as well and a 14 day free trial of paid plans up to 35000 contacts or a personalized demo if you have more. The best part is a 30 day money-back guarantee.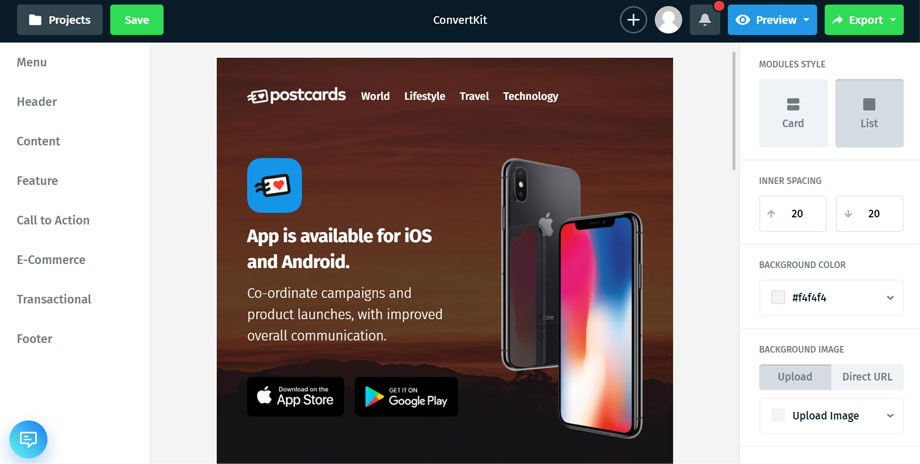 The main features of the platform include a builder for sign-up forms, personalization, automation options and more than 70 integration options with other third party applications. The user experience of the software is very basic and sometimes lacking in features.
That being said, it is a very clean and fast experience which can be useful for beginners. You can add contacts individually or import them from another service in bulk to create your email list. The software will support a single list of contacts which you can then tag for advanced segmentation.
The email builder lacks the modern drag & drop feature, leaving you with custom HTML code or plain text options. There are three templates to choose from and the builder does not have many other options, which can be great for beginners who can quickly get confused by too many options cluttering most builders.
The preview option allows you to double check all the content before sending out immediately or scheduling the send time for a later date. ConvertKit lacks a mobile application but makes up for it by allowing you to utilize all the features through a mobile web browser.
The browser access is smooth and fast, providing full functionality on the go. The live chat customer support is only available during business hours unless you create an email ticket for off time support. Paid plans offer better support as you go up the plans, in the form of 'Priority' and 'Premium' support.
Pros:
Free plan
Free trial
Money-back guarantee
Good support
Good for beginners
Cons:
Price
No drag & drop feature
Limited design options
No reports for free plan and limited reports for paid plans
RESULT: If you are an upcoming creator looking for a simple and basic email marketing platform that focuses on your growth then this is the platform for you.
GetResponse
GetResponse is a relatively large email marketing platform that services almost 350,000 users in over 180 countries. Which means they potentially send out over a billion messages per month. The software is versatile with all the modern features you expect.
The plans are based on the number of contacts, with the least expensive plan starting at $10.50 per month with 1000 contacts. They offer a 30 day trial period but no money-back guarantee. A 2 year commitment is required for the best pricing available on plans.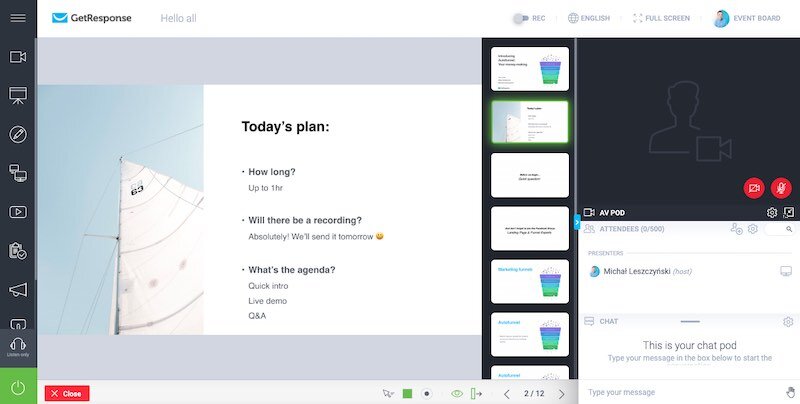 The noticeable features include unlimited emails, automation, dynamic content based on segmentation, drag & drop feature, sales funnel features including landing page editor and webinar creations, and overall user-friendliness across the board. The only feature missing, in an otherwise complete package, is an image editor.
Adding contacts is fairly straightforward through bulk import or individual uploads. The builder is also quite straightforward with template options or a blank template or HTML code. There is a drag & drop feature along with desktop and mobile views to get a visual idea of the email on both types of devices.
They offer access to thousands of free photos and an integrated Shutterstock gallery, but editing before uploading is important due to the lack of an image editor from the platform. The summary page allows you to double-check and add recipients, subject and the name of your campaign.
A mobile application is available to provide access, management and text-based email creation with very limited options. The live chat and email customer support is available around the clock and the 'Custom' plan users get a dedicated support person, Slack correspondence option and phone support as well.
Pros:
Good automation options
Free trial
Good sales funnel features
Free photos and Shutterstock integration
Cons:
No money-back guarantee
Delivery rates
Minimal options in mobile app
RESULT: This is a good platform for experienced users looking for a versatile platform with automation and sales funnel features.
MailerLite
MailerLite is a simplistic and easy-to-use platform that focuses on newsletters, they have a good editor and useful tools with modern features. The visuals and smooth flow of the software make for a great user experience, especially for beginners.
There are only two plans and one of them is free. The paid plan is based on the number of contacts with all the features available and pricing increases with your contacts. The lowest price for the paid plan is $7 per month with 1000 contacts on a yearly commitment. There is also a free website with 5 landing when you opt for the paid plan.
There is a 14 day free trial that offers all features till you decide if you want to sign-up or not.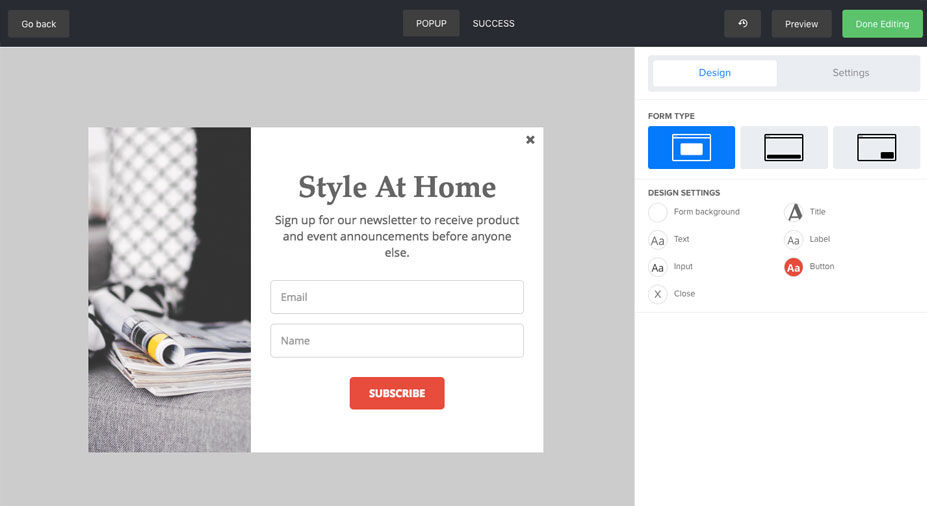 Once the trial is over, you can keep the free plan forever minus the premium features and unlimited emails. The interesting features include automation, dynamic content, contact tags and segmentation, sign-up forms and integration with over a hundred apps and social media accounts.
Adding contacts is easy through uploading lists, individual or copy pasting, you can only import contacts from MailChimp which may seem odd but seeing how MailChimp is the market leader, it makes some sense to have this option. You can then create groups of contacts or add them to already existing groups.
You can create a campaign and move to the builder to create emails through custom HTML code, plain text and drag & drop feature. There are over 60 template options with a preview feature while creating emails.
The editor has a drag & drop feature that is easy-to-use for beginners and the overall look and flow of the editor is very user-friendly. After creating your email, you can add contacts or lists and double-check everything on the summary page before sending out immediately or scheduling for later.
They have a mobile application on the App Store accessible only from apple products. The app lets you manage contacts and check results but you have to use a mobile web browser for editing and creating emails, which is a bit cluttered on mobile devices.
The email and live chat customer support is available around the clock with live chat limited to paid plan users only.
Pros:
Free trial
Free plan for life
Price
Good template options
Good delivery rates
Cons:
Basic automation
Basic analytics
No money-back guarantee
RESULT: This is a great platform for beginners and small businesses looking for an affordable, easy-to-use platform with good marketing features and delivery rates.
How to Select the Right Email Marketing Platform for Your Business
Before you choose from our list of best email marketing platforms for your brand or business, here are a few key things to look for that will help you make your decision.
Campaigns Types
You want multiple campaign types that offer a variety of emails including normal emails, auto-responders, newsletters and split testing like A/B test campaigns.
Delivery
Emails are only useful if they can make past users' spam filters. Good delivery rates will be more effective for your campaigns.
Support
This is especially important for beginners because support from email, live chat and phone calls will help overcoming challenges easier.
Automation
This can range from basic auto-responders to more targeted automation campaigns. Understand what kind of automation you require and then select accordingly.
Drag & Drop Feature
This is an effective feature in email editors that allows you to customize emails without coding and beginners may need this more than other users.
Integrations
The ability to link your software to other applications like analytics tools, online stores, websites, blogs and other applications you may require is important to know before you choose a platform.
Conclusion
Email marketing platforms are the best way to organize and manage your email marketing campaigns. They will help you achieve the targets you have set for your email and digital marketing strategy. The platforms mentioned here are good and offer unique advantages from each other.
You can choose any of these that you feel suit your business or brand better to start building good customer relationships, brand image and improved sales for the upcoming year.
We hope you liked our selection of the best email marketing platforms so far for 2021.
For more information on email marketing and platforms, contact one of our email marketing experts.